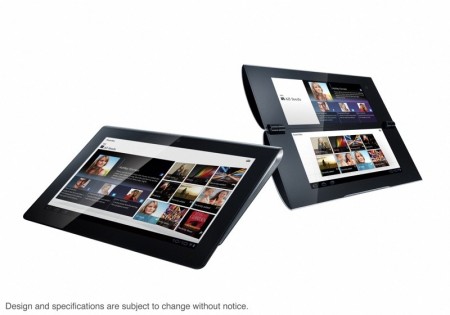 Perhaps the Sony is the last one joined the Netbook behind devices, Alsaenaiin of adults, in terms of the release date for their contributions in this new market in a timely manner.
And here is a new day be solved in the same position in the world of Tablet after it was announced all the top producers of computers in the world about their plans for this market.
Sony removed the veil today on two of the Tablet which is expected to be available commercially this fall, and is still holding the devices test names are S1 and S2.
Both devices Allohieddin Sisudan running Android 3.0 - Honeycomb - and will support Internet access via Allowaev Fi and phone networks of the third and fourth generation.

Details presented by Sony is not adequate, but the Tablet PC first, Sony S1 comes in the form of traditional devices tablet and that was the design lines of a different bit and is equipped with a display measuring 9.4-inch platform Tegra 2 and application to control TVs and other entertainment devices
home port infrared.
The Tablet the other, Sony S2, came different design similar platforms Nintendo DS handheld in terms of its dependence on my screen display opposite sides come each measuring 5.5 inches makes the size outlined for the device when you bend a small significantly and will Sony to provide the experience of using capable of exploiting this
the idea so that the user can, for example, watch the video on one of my screen display with control buttons appear on the screen or other display that occupies the e-mail application display the upper and the keyboard display lower.