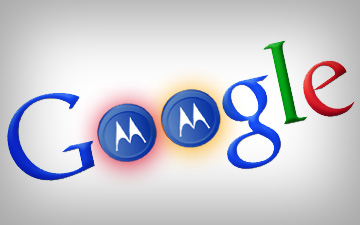 The interest in what you are carrying any kind of technology - and were not even have this interest - most likely you have heard the news of Google's acquisition of the production sector of Motorola mobile devices in one of the major deals that do not happen very often.
Is a deal that some considered a step to save to put Google in the future of the smartphone market Bastjuazha tens of thousands of patents Bmotourula, and classified by others as an actual declaration to enter the Google competition officially as one of the makers of mobile phones in the market is not one likely to leave and no doubt
I have it deal with these meanings in the meaning and values ​​all.
But what concerns me in the right of these lines is not the future of Google - Motorola and Android is the future but after becoming a direct competitor to Google's partners in this ambitious project.

On the fifth of November of 2007, I met with 34 companies Informatics, participated together in the same vision about the vitality of the telecommunications sector and smart phones, and about one goal is the tendency few times the competition is borne visible they will be exposed to shocks violent change of the market situation fully, met to declare together
alliance led by Google, comes an ambitious new player named Android.
But I now I have no doubt that this vision one targeting the one that did not include this combination no longer the case after his band and Sttaath four years has become the system Android newborn and one of the strongest competitors and with the growth and prosperity grew and grew up with aspirations of partners Vfrguethm
and is the most important is that each of them owns himself the lion's share of this cake, especially at a time when it seems the smart phone market coming to a slowdown of any kind.

Did not hide some companies acceding to Install Android over the past years, discontent with the idea of ​​Google phones Nexus One and Nexus S and that the company sells directly to the user, and despite the fact that Google had put these phones in its name but the fact of the matter is that the phones Nexus has not
not pose a real threat to producers of phones Android, Fjocal keen from the first moment to use the largest producers of mobile Android to offer versions of Nexus and two HTC first, and then Samsung and it was not a consolation to these partners, the more weight as he did not mean literally
Google's rival company partners were not produced for these phones as they were in a developer who wants to put Edition original - raw - from the product system, Android, for the user who wants this release without alteration or addition.
The limited number of devices Nexus, which meant that they definitely will not succeed in covering the needs of all categories of users was enough to guarantee that this limited experience does not represent a threat or actual competition from the master developer of the system.

And if the phones Nexus has annoyed some people, it seems perfectly logical to raise Motorola's recent deal resentment and perhaps resentment and anger on the part of a larger number of partners and key supporters of the system Android.
Fjocal which has long proclaimed itself as a developer key system stands on the fence to allow fair competition between the rest are now one of those competitors, and mistake a lot of thought that this new situation will not change that thing, Valmentzer and logical start of the day is to be Motorola
has always been more ready to get the system updates Android soon launch - a status it has maintained phones Nexus previously - even, and if allowed Google to its pre-check updates to the system and its intentions for each new version, it will remain - represented in Motorola - is the closest in terms of thought
and implementation capacity to get these updates.
And this and that was just one of the points that will undermine the status of Google as a developer of a neutral system, it remains alone as a key factor in user decision when buying a new phone carries an independent operating system periodically gets updates regularly.

The question that I do not have to answer now is, how is the response by those companies that become the bulk of its business depends on sales of Android phones such as HTC and Samsung and others?!
Are these companies will go to more diversity in providing though more inclined to compete with systems such as Windows System von 7 - which Microsoft has always chosen to be the only developer and not the product of his telephone -?
And Will this actually step on the Android system, which has gained popularity and spread of the reality of the diversity of its phones available?
Definitely do not imagine that Google Android will allow to lose what has already started to achieve, but I just do not know for sure whether Google still see that the diversity of producers Android phones to this range is the right way you want for this system at this point.